ELIMINATE ANNOYING FLIES
WITH COMMON SALT!
Germany's No. 1 fly killer
INTRODUCING Bug-A-Salt 3.0
The BUG-A-SALT 3.0 is specifically tailored to the needs of the
serious fly hunter
SPAREN SIE BEI KOMBI-ANGEBOTEN!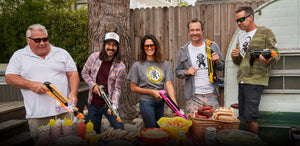 6 REASONS WHY PEOPLE LOVE THE BUG-A-SALT
DESTROY NONUSING FLIES
House flies defecate every 4-5 minutes and may spread disease in your home. Don't let the flies win! Quit today!
OVER 50,000 GREAT REVIEWS
More than 50,000 satisfied customers can't be wrong! Join our growing fanbase today.
FULL 2 YEAR WARRANTY
Every Bug-A-Salt is eligible for a full 2-year warranty against errors or defects. We stand by it.
NO TOXIC FLY SPRAY
Fly sprays are packed with harmful chemicals that pollute the air you breathe and your home. Bug-A-Salt eliminates flies poison-free.
PERFECT GIFT IDEA
The Bug-A-Salt turns grown-ups back into little kids! The perfect gift for someone who has everything.
FAST SHIPPING FROM GERMANY
Delivery in 2-4 working days within Germany (4-8 for the rest of the EU)
NO! Using other substances will cause problems with your weapon.
Using other substances will void the warranty.
No, abuse only: Do not shoot anyone in the face or eyes.
Treat it with respect like any firearm. It does not penetrate skin or damage furniture.
Ordinary table salt from your local supermarket.
No, the bug is left whole for easy cleaning.
If troubleshooting doesn't help, you're in luck! Lorenzo stands by our product and we take our 2 year guarantee policy against factory defects seriously.
If the gun is more than 2 years old. On a case-by-case basis, we do our best to take care of
all of our customers' problems.
Please don't disassemble your BUG-A-SALT or do anything stupid like put sand in it
, as this will void our warranty policy.
Contact Us:
Send us an email at bugasaltde@macvad.com and someone will get back to you as soon
as possible.
See our Support Form
If you are not satisfied with your purchase, please let us know the details by filling out this Form. If possible, we'll be happy to offer you a refund.